Roger Federer, Serena Williams, Novak Djokovic, Maria Sharapova, Andy Murray and Ana Ivanovic are among a host of professional tennis stars playing in the inaugural season of the International Premier Tennis League.
By doing so they are adding credibility to the new league and causing controversy with the established ATP and WTA tours.
While their presence has excited fans throughout Asia, the superstars appear to be at odds with ATP and WTA officials. Leaders from the two tours seem a little leery about having their biggest names turning the short off season into a second season.
Yet, judging from response from fans and the reaction from players, it appears the IPTL may be around for a while. Why not? The league has tapped into something the ATP and WTA seem to ignore: how to entertain the casual tennis fan.
The IPTL matches feature dancers, a DJ, a shot-clock for serves and no add games. Fans in Manila, the first stop among the four venues, were treated to Murray and Sharapova playing mixed doubles and Gael Monfils leading a team dance.
"With the kind of high we started off in Manila we can safely say that we're off to a good start," IPTL managing director Mahesh Bhupathi told the Times of India.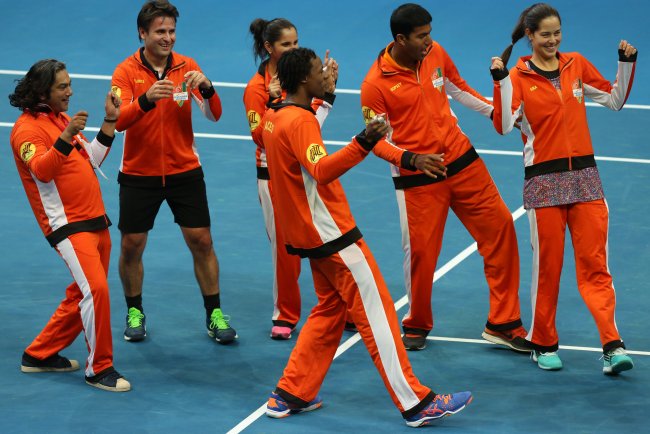 Aaron Favila/Associated Press
The emergence of the IPTL has caused quite a stir. Die-hard tennis fans, skeptical at first, are enjoying seeing their favorites during a time when they would otherwise be going through tennis withdrawal. Casual fans, those who tune in just to see the big names, are seeing several stars on the court at the same time.
Meanwhile, the players and ATP and WTA officials seem to have flip-flopped on length of season issues. The biggest beef the officials seem to have is the post-season wear and tear this might cause players.
Players have long complained about long seasons. However, with little time off, all of a sudden they are willing to play an additional three-week season, and travel to Asia to do it.
They seem down-right giddy about it.
Why not? They are being treated like royalty. They are introduced to the crowd like they are rock stars. They are probably making more money per game than they make at most big ATP or WTA events.
The league owners reportedly spent $24 million on assembling the four teams. Top players will reportedly receive $1 million per match. They will also get to chose how often they play.