Snow started falling heaving on Monday afternoon as the US northeast braced for a potentially historic blizzard that could derail transportation and create problems for millions of people. The storm, named Juno, could dump as much as three feet of snow overnight and experts have warned it could be powerful enough to create thundersnow – a rare occurrence of when a snow storm is combined with thunder and lightening
Officials in major cities across the region urged workers to stay homes and airlines cancelled thousands of flights. The authorities in the states of New Jersey, New York, Connecticut and Massachusetts said they would be limiting transport services and several governors announced that drivers should get off the roads by nightfall.
New York Governor Andrew Cuomo declared a state of emergency and deployed National Guard troops to a number of counties in the southern part of the state as well as New York City. Officials said they were considering a total travel ban on main roads, starting at 11pm local time, according to Reuters.
"It could be a matter of life and death so caution is required," Mr Cuomo said. "This is not an evening or a night to be out and about."
New York City Mayor Bill de Blasio said on Monday afternoon "This will most likely be one of the largest blizzards in the history of New York City."
The National Weather Service issued a blizzard warning for New York City and surrounding areas between coastal New Jersey and Connecticut, beginning 1 pm on Monday and worsening overnight. The weather service warned the approaching system would be a "crippling and potentially historic blizzard", with many areas along the East Coast expected to be blanketed by 12 inches to 24 inches.
Meteorologists have warned there may be a combination of thunder and lightening combined with the snow – so-called thundersnow – had the potential to create a huge dump.
"This is not going to be a run-of-the-mill nor'easter," Alan Dunham, a meteorologist with the National Weather Service's forecast office in Massachusetts, told the New York Times. "This storm has the potential to be a historic storm."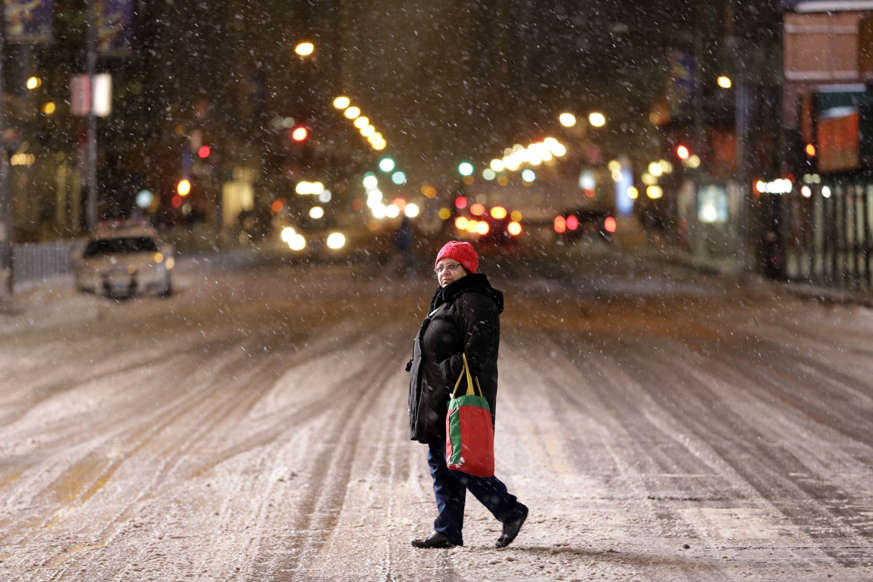 © ASSOCIATED PRESS More than 35 million people along the Philadelphia-to-Boston corridor rushed to get home as a fearsome storm swirled in with the potential for hurricane-force winds
Reports say that in New York City, the biggest storm since records began in 1869, took place in February 2006 when 26.9 inches fell. The upper estimates for the amount of snow Juno could produce suggest the record could be broken. New York could also see winds of up to 50 mph, creating drifts. Schools have been ordered shut for Tuesday.
"Wait until tomorrow," Pedro Chanada, who was clearing snow with shovel from the pavement outside his home in New York's Harlem neighbourhood, told The Independent. "Tomorrow, all these cars will be covered in snow."
As people slipped and slithered and hurried to get home, supermarkets reported that they had been besieged with customers stocking up on milk and canned goods. Some people, especially children, took time to make snowballs and play.
Meanwhile, business travellers as well as holiday makers faced problems as airlines cancelled a total of 2,700 flights, including around 700 from the three airports that serve New York City.
New Jersey Governor Chris Christie declared a state of emergency, and sent all but the most essential government workers home on Monday afternoon, telling them not to return until Wednesday at the earliest. "Please stay home," he said.
The governors of Massachusetts and Connecticut told residents to expect driving bans later tonight and all day tomorrow. They warned that hundreds of thousands of people could lose power, possibly for days.
"We are anticipating an historic, top-five storm, based on the snowfall," Massachusetts Governor Charlie Baker told reporters on Monday. The Boston-area transit system will be shut on Tuesday, he said. He warned that coastal parts of the state will likely suffer flooding.