British markets rallied as news of Tory success saw the pound surge, estate agent shares soar and big firms express their hopes for an era of intensified free market deregulation.
As the FTSE100 index surged by 2 percent and the sterling went up against the US dollar, the shares of Foxton's estate agency soared 13 percent.
Lucian Cook of rival estate agents Savills – whose shares went up by 7.5 percent – told the Guardian the spike was likely due to a Conservative victory removing the "specter" of Ed Miliband's proposed mansion tax from the market.
Read more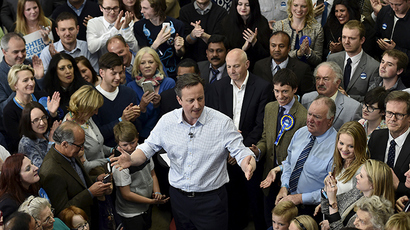 UK General Election 2015
Labour had promised, in the event of victory, to place a £3,000-a-year tax on homes in to £2-3 million bracket.
Alison Platt, CEO of estate agents Countrywide, expected the Tories to fulfil their housing pledges.
"We anticipate this Conservative led government to turn its attention from implementing policies that stimulated demand in the housing market to addressing the lack of housing supply.
"Sticking to its pledge to boost housebuilding through the provision of more affordable housing and more garden cities should prove welcome."
However, raising a point which will be of concern to environmentalists, Platt said a Tory or Tory-led government could well reconsider "precisely what we call greenbelt today and look to free up more land for sustainable development."
In terms of personnel, perhaps the two biggest wins for Cameron's party may prove to be the re-election of Chancellor George Osborne and the unseating of Lib Dem business secretary Vince Cable.
The hunt will be on for a new Secretary of State for Business, Innovation and Skills to replace Cable from among the Tory ranks.
In an excerpt from a research note written by the financial company UBS and published by the BBC, the firm expressed relief at the collapse of Labour and with it any chances of extended political wrangling.
"It appears that we will avoid weeks of uncertainty and horse-trading as there is the ability for the Conservatives to form a government perhaps relatively quickly."
Jason Hughes of trading firm CMC Markets told the BBC, "The market often likes a bit of consistency and stability and if the Conservatives are returned to power – be it as part of a minority government or as part of a coalition again – they will be able to push through a lot of the policies and approaches that they have done over the last five years in parliament."
Perhaps unsurprisingly given the Tories' history of unveiled adherence to the market, the consensus among business appears to be that a Conservative government equates to stability, opportunity and advantage.