By Chen Yingqun (China Daily Africa)  : –
Kazakhstan is eager to learn from China's experience in building soft infrastructure, such as new technology and financial services, says a leading financial official.
"China is very developed in new technology, in terms of payment systems, different banking services, and big data. We are also very keen to be part of this kind of investment in soft infrastructure, to be this kind of business hub for this infrastructure as well," Kairat Kelimbetov, governor of Astana International Finance Centre, said during the 13th Eurasian Media Forum in late April in Astana, capital of Kazakhstan.
"We are keen to invite presidents from companies like Alibaba, Tencent, and the financial side of CITIC Ltd also to work and to bring this kind of new technology," he says.
Since December, Kelimbetov has been head of the Astana center, an ambitious project to cement Kazakhstan's position as a leading center for finance. He formerly was deputy prime minister of Kazakhstan and oversaw macroeconomics, budget policy, governance of state companies and the financial sector, and tax and customs regulations. He also served as the chairman of the Council of the Eurasian Economic Commission.
The aim of the Astana International Finance Centre is to attract foreign investment, open up the Kazakh banking sector and make it easier for insurance companies and Islamic finance institutions to do business. It is expected to boost Kazakhstan's economic stability and help the country along the path to becoming a top-30 global economy by 2050.
Kelimbetov says Kazakhstan's new Bright Road economic policy emphasizes infrastructure development in the country and ties into China's Belt and Road Initiative, a development strategy and framework that focuses on infrastructure, trade and connectivity among countries.
In ancient times, people traded along the Silk Road, and in the past 25 years since Kazakhstan achieved independence, his country and China have become close strategic partners, he says. They have a relationship built on history and trust, as shown by the creation of the Shanghai Cooperation Organization, an organization of Eurasian nations, he says.
Important infrastructure plans are being put in motion, such as connecting Kazakhstan railways at the border with China, Turkmenistan and other countries. Also, China is investing a lot in the Kazakh energy sector. About 25 percent of Kazakhstan's oil production is owned by Chinese companies, such as CITIC and Sinopec Group, and they are building east-west pipelines in the country.
Chinese companies also would be invited to participate in infrastructure projects like the electricity grid, he says.
Since Kazakhstan is part of the Belt and Road Initiative, Astana is a natural regional business hub for these initiatives, including the financial sector.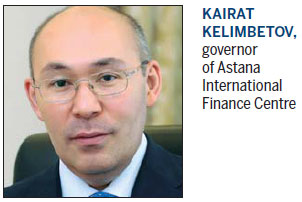 "One of the ideas of the regional financial center is to attract capital and investment from China, Chinese liquidity, and the liquidity of the Chinese banking community," he says.
"This is very much in line with connectivity, because connectivity is not only about having infrastructure projects, connectivity is about people-to-people relationships, new technologies, etc."
Kelimbetov says the financial center will include a new stock exchange, and that collaboration with the Shanghai and Hong Kong exchanges is ongoing to obtain advice and support.
The internationalization of China's renminbi, which the International Monetary Fund will include in its basket of reserve currencies this year, provides additional opportunities. Astana is considering building an offshore yuan center, and officials are talking to different organizations about how to promote it, Kelimbetov says. The country also wants to participate in such groups as the Silk Road Fund, an investment fund of the Chinese government, and the Asian Infrastructure Investment Bank, an international financial organization led by Beijing.
"The position of the renminbi is very strong. I think the future of China's economy is very prosperous, despite the slowdown. I strongly believe this kind of change from the manufacturing-driven to the more consumer-led economy is difficult to do in one or two years – it will take decades maybe – but a very competent government knows what to do," he says.
He says that Kazakhstan also would like to work with China in third markets.
"We want to co-finance in whatever the project is. We are very pragmatic, very realistic, but we are very much ambitious to be an important part of the Belt and Road," he says.
Kazakhstan also offers the advantage of being in the Eurasian Economic Union, which also includes Armenia, Belarus, Kazakhstan, the Kyrgyz Republic and Russia. Kelimbetov says having access to one country means having access to the whole community. Moreover, there will be discussions about free trade zones between Kazakhstan and European Union, the Eurasian Economic Union and China, all of which present important opportunities, he says.
"If you look at the sector of trade, 50 percent of our trade is the European Union, 20 percent is China and 20 percent is Russia," he says, adding that diversifying the economy is very important for maintaining good relationships with neighbors and developing good economic and business structures.
chenyingqun@chinadaily.com.cn
(China Daily Africa Weekly 05/13/2016 page28)